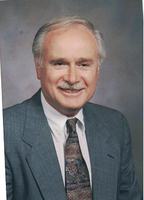 Dominick J. "Dom" Macchia
~~Dominick Macchia, age 79, of Morristown, NJ passed away on November 5, 2017 at home in Morristown.

Funeral arrangements and visitation will be held at Dangler Funeral Home at 600 Speedwell Avenue, Morris Plains, on Sunday, November 12, from 1-4 pm.Interment will follow Monday at Holy Rood Cemetery/Mausoleum in Whippany, NJ with a private family service.

Dom was born in Astoria, Queens New York to Frank and Stella Macchia on April 29, 1938. He graduated from Cooper Union in New York City in 1959 and from Cornell University with a Master's Degree in Mechanical Engineering.

He worked in the Aerospace industry and with the Bell System in numerous management positions for over 35 years. While at Bellcomm in Washington, DC, he worked on the lunar landing module for the Eagle Moon landing in 1969. It was here that he met his future wife, Cleo Stokan, who also worked there.
He was married to Cleo for over 45 years and lived in the Olde Wheatsheaf Farms Neighborhood all that time. He was very active on the Board of Trustees for the Homeowners Association as Treasurer and involved in all of its activities, and was a member of the CORBE retirees group.

Dom was a loving and caring husband, father, grandfather and friend. He was known for his smiling face, his sense of humor and love for telling jokes and funny stories.

Dom is survived by his wife Cleo, in Morristown; son Peter and wife Rebecca and their two daughters, Elizabeth Marin (Ellie) and Nora Evelyn of Baltimore, MD; brother Anthony and wife Irene of Philadelphia, and by numerous cousins in New Jersey and California. He is preceded in death by his parents, Frank and Stella Macchia.

His family is deeply grateful to all his many friends, neighbors and relatives for all the beautiful tributes, letters and well wishes we have received on his behalf.