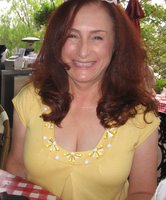 Maryrose (nee Congin) Bianchi
~~Maryrose (nee Congin) Bianchi, 68, of Half Moon Bay, CA and Morristown, New Jersey passed away on November 23, 2017 in New Jersey surrounded by her family.

Maryrose was a wonderful, complicated, funny, considerate, loving person. Born and raised in South San Francisco, Maryrose was a graduate of El Camino High School Class of 1967. She lived in Half Moon Bay for most of her adult life, and in Morristown for the last 7 years.

She was an outgoing force of life and easily made friends wherever she went. She was a Director at Pacific Bell and was an avid animal lover, as she could rarely be found without one of her Yorkies.

Maryrose was John's partner, friend and wife for 30 years; Nicholas' biggest fan, supporter and Mom; and a loyal friend to many who knew her. She was always happiest around John, Nicholas, Christina, her family and friends, whether it was sharing a meal; going dancing; listening to Barry Manilow; or catching a show. If she saw her loved ones having fun, Maryrose had a smile on her face.

Maryrose was preceded in death by her parents (Carl & Katherine Congin) and brother (Frankie Congin). She is survived by John (the love of her life), Nicholas (the light of her life) & Christina Bianchi whom she considered her daughter, as well as many friends and a large extended family.

A celebration of Maryrose's life for those family and friends on the West coast will be held on Saturday, December 9, 2017 at 10am at Community United Methodist Church, 777 Miramontes Street, Half Moon Bay, CA. Interment of her ashes will be on Monday, December 11, 2017 at 10am at Holy Cross Catholic Cemetery, Colma, CA. An additional celebration of her life for those family and friends on the East Coast will be held on Monday, December 4, 2017 from 4-6pm, with a Service at 6pm, at Dangler Funeral Home, 600 Speedwell Avenue, Morris Plains, NJ.

In lieu of flowers, the family kindly requests donations in memory of Maryrose may be made to: St. Jude Children's Research Hospital, 501 St. Jude Place, Memphis, TN 38105; Kindred Hospice Foundation, 242 Old New Brunswick Rd., Piscataway, NJ 08854; Peninsula Humane Society & SPCA, 1450 Rollins Road Burlingame, CA 94010.

Condolences can be sent to: BianchiCondolences@gmail.com.

Arrangements were under the care of Dangler Funeral Home, Morris Plains, NJ.