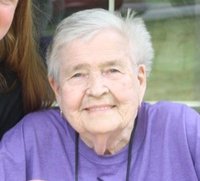 Eleanor Lund Lake
~~Eleanor Lund Lake of Whippany , NJ passed away peacefully on Friday December 1, 2017 .

Ellie was born May 28, 1938 in Brooklyn NY. She worked for many years at Bee Meadow School in Whippany NJ with special needs children. She loved to knit, play cards and spend time with her family.

She is predeceased by her parents Hans and Margit Juberg of Brooklyn NY.

Ellie is survived by her loving husband, Roland F. Lake, and children Mark Lake and wife Susan, John Lake and wife Maureen, both of Towaco, NJ; Michael Lake and wife Kathleen of Cedar Rapids, IA; Paul Lake and wife Shruti of Flanders, NJ, Robert Lake and wife Dana of Cedar Knolls, NJ and Donna Wagner and husband Michael of Boonton NJ.

She was a beloved grandmother to John, Annie and fiancé, Eric, Jared, Tami, Genevieve, Mackenzie, Andrew, Sofia, Madeline, Charlie, Hannah, Marisa, Kyle, Gregory, Konner, Mariah, Malone and Melanie.

Visitation will be at Dangler Funeral Home 600 Speedwell Avenue in Morris Plains NJ on Tuesday December 5, 2017 from 3:00 pm to 7:00 pm. There will be a short service commencing around 6 p.m.

In lieu of flowers, contributions in memory of Ellie may be made to the Cedar Knolls Fire Department First Aid Squad, PO Box 511 Cedar Knolls, NJ 07927 or to St. Hubert's Animal Giralda in Madison NJ, via online @ St.Huberts.org or at St. Hubert's Animal Welfare Ctr. P.O. Box 159 Madison, NJ 07940.