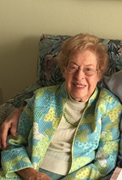 Mary Virginia "Virginia " Shea
~~Mary "Virginia" Shea, formerly from Morristown, passed away peacefully three weeks before her 98th birthday. She was pre-deceased by her husband of 56 years, Thomas Shea. She is survived by their six children and their spouses, seven grandchildren and six great-grandchildren. She is also survived by her brother Wayne and his huge family, and her best friend Rita.

Virginia was born in the wild west town of Helena, Montana in 1919, but raised in bustling NYC. She and Tom spent their first married year in an Alaskan mining camp before moving to Montana, then Maryland, before settling in New Jersey to raise their five sons and one daughter. Virginia served as the Mine Hill Town Clerk for several years before taking the position of Clerk of the Board of Chosen Freeholders for Morris County, a position that she held for 15 years, serving 24 Freeholders during her tenure. After retiring 28 years ago, Virginia and Tom ditched the cold weather and became permanent residents of Marco Island, Florida.

For her entire adult life, Virginia put on her makeup every morning, and had her glass of wine every night with dinner. She will be remembered for her strong faith, her extreme generosity, her laugh and positive attitude. She always put other's needs ahead of her own.

Virginia will be interred with her husband. The wake will be at Dangler Funeral Home, 600 Speedwell Avenue, Morris Plains on Friday, December 8, 2017 from 6-8pm. A Funeral Mass will be on Saturday, December 9, 2017 at 10:00am at St. Margaret's Catholic Church, 6 Sussex Avenue, Morristown. Entombment will follow at Holy Rood Mausoleum, Morris Township.