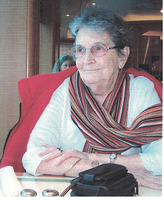 E. Jeanne MacEachern
Eudora "Jeanne" Sweigart MacEachern
Born in Atlantic City on July 18, 1928 to Charles & Edith Sweigart, she was the 4th of 5 children. She spent her early years in Newark and Denville, moving to East Orange when she married Charles MacEachern in 1949. They relocated to Randolph, then in the country, to raise their family - the 6 children she wished for - and moved later to Morris Plains. Charlie died much too soon, when they were both 42, leaving Jeanne to raise the children on her own.
Jeanne worked long and hard, and particularly enjoyed her years at the Morris County Courthouse. She provided well for her family, and all her children attended college, as did she, fulfilling another of her dreams. After all flew the coop, she was able to travel more often, to sing in Europe several times, and to visit her children around the US.
Music filled her life; she especially loved Mozart. An alto, she was a member of the St. Virgil's choir for 50 years and was a long-time member and officer of the Morris Choral Society and Coro Lirico. She enjoyed many hours with her singing buddies during practice and afterwards at the Dublin Pub. She also practiced Tai Chi for many years. She loved all kinds of kitchen gadgets, puns, and was an avid newshound. Jeanne donated regularly and generously to many charities.
Leaving her many old friends in the Morristown area 2 years ago, she moved to Central Jersey to be closer to the Marys and to be near the ocean once again. She departed this world on Christmas Day 2017 to be with her Heavenly Father.
Jeanne was proud of her children Mary (Mary), Ruth (John), Dorothy (Terry), Patty (Mike), Charlie (Nancy) and the late Kathy (Tracy); her grandchildren Amanda, Leta, Cassady, Gabe, Glenn, Jesse and Stanley; and her 4 great grandchildren: Harley, Ava, Mason and Jackson. She is also survived by her brother Don of Virginia, and family and friends far and near. She will be missed by all whose lives she touched.
Her family is grateful to the staff at Manor by the Sea and Meridian Hospice for keeping Mom comfortable in her last months. A memorial is planned for February, when her ashes will be scattered at sea, according to her wishes. In lieu of flowers, please donate to your favorite charity in her memory.
A Memorial Mass for Jeanne will be held on Saturday, February 10, 2018 at 11:00am at St. Virgil's Church, 250 Speedwell Avenue, Morris Plains.
I have seen death too often to believe in death.
It is not an ending, but a withdrawal.
As one who finishes a long journey, turns off the lights, steps from her car,
and walks up the path to the home that awaits her.
--Anonymous