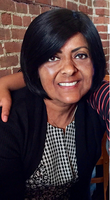 Harshana "Dolly " Tracey
Harshana "Dolly" Tracey, 54, of Morristown, passed away on February 1, 2018 at home surrounded by her loving family.
Born in Ahmedabad, India, Dolly resided in Scotland and Jersey City before moving to Morristown a year-and-a-half ago.
Dolly graduated from West Calder High School and Kirkcaldy Technical College, both in Scotland. She worked as a Custody Banker for Citigroup for 18 years before she retired in 2012.
Dolly is survived by her loving and devoted husband, John; and her dear son, Samuel. She is also survived by her beloved siblings, Kalpana Patel and Mahesh Patel.
Family and friends are welcome to gather on Tuesday, February 6, 2018 from 4-7pm at Burroughs, Kohr & Dangler Funeral Home, 106 Main Street, Madison. Funeral services and interment are private for family.
In lieu of flowers, the family kindly requests donations in memory of Dolly may be made to: Breast Cancer Research Foundation (https://www.bcrf.org/).