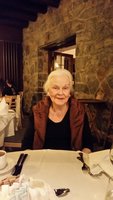 Louise Henrietta Woods Paterson
Louise H. Paterson, a native of Pennsylvania and a longtime resident of Madison, NJ, died on February 4, 2018. She was 90. She had a wonderful marriage to George Mansell Paterson, who died in 1989.
She is survived by her son, Robert George Paterson of St. Simon's Island, GA, her daughter, Patricia Paterson Graham (Duane) of Mobile, AL, her grandson, George Paterson Graham (Hallet) of Charleston, SC, and her great-grandson, Henry George Graham of Charleston, SC. She had previously lived in Louisville, KY, Detroit, MI, and Wilmington, DE.
Louise studied at Goldey-Beacom College. She was a member of Long Hill Chapel and the Thursday Morning Club. She was elected by the Morris County Republican Committee as their District Leader for Madison, NJ. She served in this position for many years. Louise enjoyed gardening, decorating and painting, too. She had the pleasure to sing with her church choir at Billy Graham's last revival at the Meadowlands. Louise and George participated in Campus Crusade for many years.
Visitation will be held Friday, February 9, 2018 from 5:00pm-8:00pm at Burroughs, Kohr & Dangler Funeral Home in Madison, NJ. She will be buried next to her husband George in Mobile, AL. In lieu of flowers, donations may be made in Louise's memory to the Texas Heart Institute Development Office, P O Box 20345, Mail Code 3-117, Houston, TX 77225-0345.