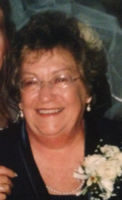 Ruth C. Mills
Ruth C. Mills, also known as Ruthie, Tootie or Nanna, passed away on Thursday, February 8, 2018, at Morristown Medical Center at the age of 88 years young.
Ruth has been a lifelong resident of Morris County, New Jersey. In her younger years she lived and attended school in Brooklyn, New York.
She worked as the Secretary of the Planning Board and then the Borough Clerk for the town of Morris Plains, New Jersey. She worked there for about 26 years then retired in the year of 1994.
Ruth was dedicated to her treasured community of Morris Plains by working and volunteering at Morristown Medical Center, the Board of Election, and Morris Plains Board of Adjustment.
In Ruth's busy life, she made time for the All Seasons Garden Club, The Sewing Ladies Group, The Card Group, Morris Plains Traveling Group and she also worked at Morris Plains Community Center. Ruth had one lovely sister, Eleanor Havness (predeceased).
Ruth had three loving sons, Marc Christopher Mills (predeceased), Gregory Mills, and Eric Mills. She also has three wonderful grandchildren, Hanna Mills, Christopher Mills and Julia Mills.
A viewing for Ruth will be held on Sunday, February 11, 2018, at Dangler Funeral Home from 2-5 pm, 600 Speedwell Ave., Morris Plains, NJ 07950. Monday, February 12, 2018, Ruth's funeral will be held at 11 am at Dangler Funeral Home. Interment will be held at Hilltop Cemetery, Mendham, New Jersey following the funeral service. Ruth will be missed dearly. In lieu of flowers donations in Ruth's memory may be made to the Morris Minute Men, Morris Plains, NJ (morrisminutemen.org).