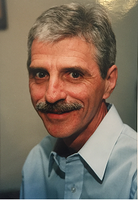 William C. Fulmer, Sr.
William C. Fulmer, Sr.
William (Bill) C. Fulmer, passed away on February 10, 2018 at Morristown Medical Center. He was a resident of Morris Plains since 1990 and formerly lived in Morristown where he was born.
He was a 1970 graduate of Morristown High School. He worked as a Postal Carrier for the Morristown Post Office for 38 years until he retired on February 1, 2007.
He was predeceased by his father, Chester Fulmer and his mother, Katherine Pyle Ohley, his brother, Arnold, and his sister, Betty Cole (Sissy).
He is survived by the love of his life, his wife Audrey Ketch Fulmer, his daughter, Carrie, and his son, William Fulmer, Jr. He is also survived by his sisters, Doris Ayres, Helen Feola, and Ann Turney, as well as many nieces and nephews.
He was an avid NASCAR fan and enjoyed spending time with family and friends. He will be deeply missed. Bill was a friend of "Bill's" for 30 years.
Family and friends are welcome to gather on Saturday, February 17, 2018 from 3-7 pm at Dangler Funeral Home, 600 Speedwell Ave, Morris Plains, NJ. A funeral service will be held that night at 6:30 pm.
In lieu of flowers, the family requests that donations may be made in Bill's memory to your favorite charity.