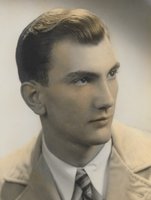 Dominic S. Costanzo
Dominic S. Costanzo, 87, passed away on February 13, 2018 at home surrounded by his loving family.
Born and raised in Morristown, Dominic resided in Succasunna for 54 years. He proudly served his country in the U.S. Army during the Korean Conflict.
Dominic graduated from Morristown High School, and attended Seton Hall University. He worked as a Supervisor at Rowe International in Whippany for 27 years, until he retired in 1992. He was also an NRA Instructor.
Dominic is survived by his loving wife, Laura E. Costanzo; as well as seven sons and their families, John and Carol, Athens, Ohio; Vincent and Karen, Lantana, Texas; Dominic II and Linda, Succasunna, New Jersey; Antony and Margaret, Bloomington, Minnesota; Dino and Susan, Wallingford, Connecticut; Paul and Cyndi, Ellington, Connecticut; and Steven and Carol, Pawcatuck, Connecticut. He is also survived by his beloved sister, Rosemarie and Robert Roche, Morris Township; his cherished grandchildren, Joseph and Tina Costanzo, Laura Costanzo, Catherine and Aaron Burton, Tony Costanzo, Nicholas and Kathryn Costanzo, Dominic Costanzo III, John Costanzo, Jacqueline Costanzo, Michael Costanzo, James Costanzo, Emily Costanzo, Andrew Costanzo, Mark Costanzo, and Luke Costanzo; as well as his six adored great-grandchildren; and nine dear nieces and nephews.
Family and friends are welcome to gather on Thursday, February 15, 2018 (today) from 4-7pm at Dangler Funeral Home, 600 Speedwell Avenue, Morris Plains. A Mass of Christian Burial will be held on Friday, February 16, 2018 at 10:00am a St. Elizabeth Ann Seton, 61 Main Street, Flanders. Interment will follow at Holy Rood Cemetery, Morris Township.
In lieu of flowers, the family kindly requests donations may be made to: Atlantic Home Care & Hospice, 465 South St., Morristown, NJ 07960.