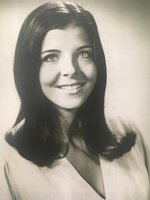 Virginia C. "Ginny" Kilpatrick
Virginia ("Ginny") Colwell Kilpatrick, a native of Mendham, NJ, passed away on Monday, March 5, at the age of 72. Ginny was born on January 25, 1946. Ginny was a beautiful and intelligent child, the younger of two girls born to Lewis Oliver Colwell and Dolores Colwell (nee Cianella). Ginny had a strong childhood bond with her father, who she greatly admired. After his death in 1984, Ginny would often invoke her Dad's memory with carefully placed and poignantly delivered recitations of his favorite sayings and life lessons.
Ginny studied dance and piano as a child and performed on the Jack Parr Show. Skilled in adulthood, piano would become for her a medium and outlet for her creative, passionate energy. Many long single parent working days would end with an audience of two bedded children lulled to sleep via an intimate performance of Moonlight Sonata.
Ginny was Junior Miss and Miss Morris County in 1964, and Miss Cumberland Valley in 1965. She left Mendham after high school to attend Wilson College in Pennsylvania. It was there that she met her future husband, Dean Kilpatrick, a student at nearby Dickinson College. The two met but did not date until after Dean returned from military service in Vietnam, at which time he promptly and single mindedly (public phone book in hand) set out to reconnect with the Ginny he had met in college. After a heart-felt yet barely successfully phone call with Lewis, he was given her contact information and found her as a recent NYU grad and part-time cigarette girl at the recently opened Playboy Club in Manhattan, NY. Ginny had also been modeling and acting in occasional TV commercials, and was thoroughly enjoying life in Manhattan.
Ginny married Dean, who she frequently proclaimed the love of her life, in 1970 and the two moved to attend graduate school at the University of Delaware and then to Pennsylvania for his employment and to start a family. They had two children, Ellen Laura Kilpatrick and Ryan Dean Kilpatrick, and the family lived on a large, wooded property with numerous dogs, cats, rabbits and the occasional chicken.
In the early 1980s, Ginny returned to Mendham with her children, where she invested most of her energy in providing for and raising her children. She always kept an open house for all of her children's friends growing up. Much of this time, Ginny was a successful realtor throughout the Mendham and Morristown area. Throughout her adult life but increasingly as her children grew up, Ginny was also a prolific writer and illustrator who, over the course of her life wrote numerous novels, plays, and poetry anthologies as well as writing and illustrating a number of children's books. When Ellen and Ryan no longer lived at home, Ginny took a leap of faith and followed her inspiration by moving to Valencia, California, where she received her MFA and a degree in animation from the California Institute of the Arts. These approximately ten years in California were perhaps some of the happiest of her adult life. It was not uncommon to show up and find her sitting on her back veranda, sipping her coffee and pensively enjoying the warm breeze coming off the Santa Catalina Mountains. She was extremely productive as an artist and writer throughout this time.
In 2005, Ginny returned to Mendham under the auspices of updating and selling her home there. The expected eight to twelve month trip was extended several times and then indefinitely while she cared for her mother, who was increasingly in need of assistance. After Dolores fell and broke her hip, Ginny became a full-time care provider and the two lived together in Ginny's house until Dolores' passing in November of 2015. Although undeniably challenging, this was also a season of great kindness and companionship.
Ginny was a passionate person with a vigorous and self-directed spirit. She was ferociously independent. She loved animals, literature, poetry, valued fairness, and always fought for the underdog and those she loved. She had a brilliant and creative mind. Above all else, she loved her children and grand-children completely and selflessly. Our world was forever dimmed with her passing.
Ginny is survived by her son Ryan Kilpatrick and daughter Ellen Kilpatrick Reese and her grandchildren Katarina Kilpatrick, Holden Kilpatrick and Wren Kilpatrick, her son-in-law John Reese and her daughter-in-law Kara (nee Hinton) Kilpatrick, as well as many other family and friends who will miss her dearly and cherish her memory.
Family and friends are invited to attend a memorial service which will be held for Ginny on Saturday, March 10th at the Madison Hotel at One Convent Road, Morristown, from 1pm-3pm. Given her life-long love of all living creatures, donations to NJ Strays (www.njstrays.org) or Wild Baby Rescue (wildbabyrescue.org) in her honor are welcome in lieu of flowers.
Arrangements were under the care of Dangler Funeral Home, Morris Plains.