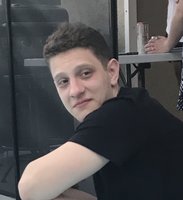 Craig A. Davidson
Craig Allan Davidson passed away suddenly Friday, April 6, 2018, at home in Morristown, NJ.
Craig is survived by his parents June Sambrowski and Jim Davidson, his brother Kyle and his wife Kristen, his brother Jake and his wife Brooke, God-son/nephew Elliott, grandparents Joan & Paul Sambrowski, and Step-Grandmother Rachel Davidson. Aunts & Uncles, Claire Pagano, Gail Flaherty, Paula & Bill Hoferer, Karen & Joe Harris, Mel & Dom Palumbo, Kristen & Billy Stahl, Karla & Tim Lortie, Paul & Rachel Sambrowski. Also survived by cousins Bryan, Terry, Billy, Laura, Ryan, Sara, Julia, Rebecca, Luke, Emma, Dominic, Fiona, Matthew, Max, Trey, Heather, Mark, Leah and their partners and children.
Craig graduated from Rutgers University and was a Contract Specialist (Intern) at Picatinny Arsenal. He was a lover of hard rock music, playing guitar, and spending time with his family and his many friends from Morris Plains, Morristown & New Brunswick.
Wake will be Monday, April 9, at Dangler Funeral Home 600 Speedwell Ave Morris Plains, 2-4PM & 7-9PM. The Funeral Mass will be on Tuesday, April 10th at 10 AM at St. Virgil Church, 250 Speedwell Ave, Morris Plains.
Craig had addiction issues that only came to light in the past few month. In lieu of flowers please make donations to the Market Street Mission (addiction recovery), Morris Plains Fire Department, or Morris Minute Men First Aid Squad.