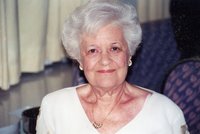 Sophia N. Bress
Sophia Nancy (nee Nielsen) Bress, 95, passed away peacefully on April 20th at her home in Wayside, NJ surrounded by her loving family.
She was born in New York City, NY on January 26, 1924. Sophia was the first child born to Isabelle and John Nielsen. They were blessed with two more daughters. Her surviving sister, Joan Nielsen, was her best friend and constant companion. Sophia was predeceased by her sister, Isabelle Heighington.
Sophia graduated from the Julia Richmond High School in NYC and worked in retail until she married Dellason "Del" Fred Bress in 1946. They had a long and happy marriage until Del passed away in 2000. They were blessed with four children - Cynthia, Dayle (Saad), John, and George (Janet). In their early years, they lived in Garden City, NY, and later moved to Berkeley Heights, NJ in 1962. Sadly, their son John passed away in 1990.
Sophia most of all enjoyed being with her family and friends. Sophia and Del celebrated many holidays and happy occasions at their home. There was always a reason for a family get-together.
The family is grateful that she lived a long and healthy life, always surrounded by family. Sophia delighted in watching her children and grandchildren, Aimee, James (Amy), Adam, Noah (Christine), Jason (Mary), Suzanne, Meredith (Brian), and Alex growing up and witnessing their many accomplishments.
Sophia lived to welcome and enjoy seven great-grandchildren, Isabella Sophia, Andrew, Michael, Eleanor, Madison, Miles, and most recently Luke.
Sophia had many hobbies and interests, including knitting, bridge, ceramics, bowling, and volunteering at The Bargain Box in Morristown. Sophia also established a silk floral arrangement business. Most of all, Sophia had a love of gardening, which she passed on to her children. Many happy hours were spent tending and entertaining in her garden.
Family and friends are welcome to gather on Wednesday, April 24, 2019 from 5-8pm at Burroughs, Kohr & Dangler Funeral Home, 106 Main Street, Madison. A Funeral Mass for Sophia will be held on Thursday, April 25, 2019 at 10:00am at Our Lady of Peace Church, 111 South Street, New Providence. Entombment will follow at Hollywood Memorial Park, Union.
In lieu of flowers, the family requests that you consider a donation to a charity of your choice.