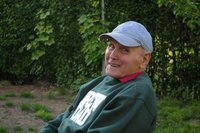 Ferenc "Frank" Zsombik
Ferenc ( "Frank" ) Zsombik passed away on Sunday, May 5, after a short illness. He came to the United States from Hungary in the 50's with the shirt on his back and worked hard as a Tool and Die Machinist while pursuing an engineering degree. He later worked for Automatic Switch in Florham Park as a Mechanical Engineer/Designer where he was employed until his retirement. During his career, a number of his innovative designs were patented by his employer.
He met his wife, Friedel, here and they were both affectionately known as "Oma" and "Opa" to friends and family. They were both wonderful dancers and loved meeting their friends at Germania Park for socials. They also loved to travel, enjoying faraway places with their friends. They were married for 59 years.
Opa loved to garden and delighted his neighbors with fresh tomatoes and zucchinis every summer. He had a kind heart and enjoyed people, pets and had a great respect for all living things. He was always willing to learn and to push himself to make a better life for himself and his family. At one point, he learned to play tennis after seeing other retirees play at a local tennis court. His love for the game was infectious, inspiring his wife to become an avid fan of professional tennis. Shortly after joining the tennis group, he took it upon himself to become the tennis coordinator; calling everyone to touch base on game times and just to do a general check-in. He also loved his Hungarian music and enjoyed singing the songs in his native language for hours. He and his friends from time to time would get together to play and sing Hungarian songs in their make-shift band.
Ferenc was preceded by his wife Friedel and leaves behind his daughter, Elizabeth Dillon and her husband Michael and his son, Joseph, and his wife Diane. He also leaves his beloved grandchildren, Meghan, Shayne, James and Chase. You could see his joyful expression manifest every time he interacted with them.
Arrangements are under the care of Burroughs, Kohr & Dangler Funeral Home and will be private with a memorial service for both Ferenc and Friedel to be announced at a later time.