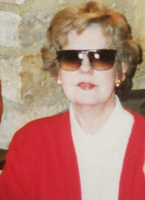 Nancy B. Marckmann
Nancy B. Marckmann passed away on May 12, 2019 at the age of 85 after a brief illness. Nancy was predeceased by her husband of 53 years, Jules H. Marckmann.
Nancy was born in Madison, NJ on October 12, 1933 to Alletta L. Burnet and Charles F. Behre. She resided in the Morris County, NJ area all of her life.
She and her husband Jules enjoyed traveling and had many wonderful adventures. Nancy particularly loved her many visits to Switzerland and the Cotswolds in south-central England. She spent many hours in her gardens and loved all woodland creatures, especially deer. Nancy was never without a dog for a companion, many collies by her side, and for the last 10 years, her beloved Yorkie, Jeter.
Nancy was also predeceased by her siblings Dorothy Cunningham and husband John T. Cunningham, Ruth Adams and her husband Mike Adams, and Harry Behre and his wife Eleanor Behre, as well as her dear niece, Ruthie. She will be dearly missed by her many close friends and family. She is survived by her nieces and nephews Diane Noonan, Susan Adams, Daniel Adams, John Adams, John Cunningham, Jr., Charles Behre, Lettie Behre, Ruth Behre, their spouses, and her many grand nieces/nephews, and great-grand nieces/nephews.
Burial at Restland Memorial Park will be private.
The family kindly requests donations in memory of Nancy may be made to: St. Hubert's Animal Welfare Center (www.sthuberts.org).