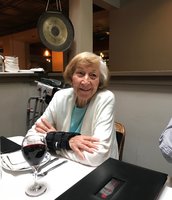 Elizabeth Elgarten
Elizabeth "Liz" Elgarten, 84, of Randolph, NJ, passed away June 11, 2019.
Born in Cuba then raised in Panama, she moved to the United States, where she proudly became a citizen. Liz graduated from Hawthorn High School in 1954 and went on to become an Operating Room Nurse at Paterson General Hospital.
In 1959, she married Herman and in 1964, began raising a family in Randolph. She was an active and founding member of Resurrection Parish. As an avid enthusiast of miniatures and dollhouses, she was a longtime member of Morris Mini Makers. Liz also volunteered as a Cub Scout leader and Girl Scout mom. She loved gardening, bird-watching and painting; legacies, which will live on through her grandchildren.
Elizabeth is survived by her devoted husband, Herman Elgarten and loving children, Michael (Clarissa), Ken (Tricia) and Lisa Elgarten Hofstetter (Fred). She is also survived by her adoring grandchildren, Paige and Grant Elgarten, Kyle, Jared, Colin and Brenden Elgarten, and John, Rebecca and Robyn Hofstetter.
Family and friends are welcome to gather on Thursday, June 13, 2019 from 6-9 pm at Dangler Funeral Home, 600 Speedwell Avenue, Morris Plains. A Funeral Mass for Elizabeth will be celebrated on Friday, June 14, 2019 at 10 am at Resurrection Parish, 651 Millbrook Avenue, Randolph. Interment will follow at Hilltop Cemetery, Mendham Borough.
In lieu of flowers, the family asks that people send donations to doctorswithoutborders.org in Liz's memory.