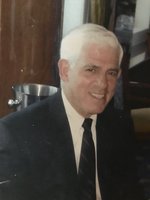 Ralph Lopez, Jr.
Former Planning Board member, Little League coach, 87
Ralph Lopez, Jr., 87, of Morris Plains, NJ, passed away on Monday, July 1, 2019 peacefully at home.
Ralph was born and grew up in New York City. On June 30, 1956 he married the love of his life, Rosemary. In 1961 they moved to the country, Morris Plains where they raised their 4 children, Sharon, Ralph, Denise and Donna.
Ralph was a contract administrator for Bendix Test Division in Teterboro for 37 years. He was very proud of his contribution in the development of Skylab.
Ralph served as a Morris Plains Planning Board member for over 30 years. Together with his wife, he enjoyed working on many local political campaigns. Ralph could be seen every election day proudly working the election polls in town.
Ralph was a member of the Knights of Columbus, the Friendly Sons of St Patrick, and Morris Plains Rotary. He also was a CYO coach and Little League coach.
Ralph and Rosemary loved cruising with their family and vacationing with their close friends.
Ralph is predeceased by his wife of 63 years, and his twin brother, Joe Lopez.
He is survived by his devoted children, Morris Plains residents, Sharon & Gene McDonald, Ralph M. & Mary Sharon (Goodwin) Lopez, Denise & Scott Robinsky and Donna Lopez. Ralph is also survived by his cherished grandchildren, Stephanie (McDonald) & Jacob Tripp, John & Christopher McDonald, Tara, Michael & Matthew Lopez, Amy (Robinsky) & Scott Jacobus, Daniel Robinsky, Hannah Wilmers. He was loving uncle to Lisa Timms and her sons, Nicholas & Alex. He was survived by sisters Mary & Frannie, as well as many loving nieces, nephews and dear friends.
In lieu of flowers donations in Ralph's name can be made to Morris Minute Men, PO Box 192 Morris Plains, NJ 07950, or the charity of your choice.