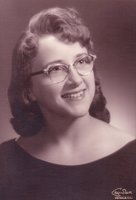 Elizabeth I. Ioriatti
Elizabeth passed peacefully Monday morning August 5, 2019 at the age of 80.
She was an artist, retired Seeing Eye Administrator, gardener, lovingly remembered as a mother, and friend. She was beloved to all who knew her. Her wit and humor always kept conversation light. Her smiles and encouragement were a blessing to all.
Preceded in death by her husband, Ernest Ioriatti, and her parents, Jewel Alice Weston and Robert Ellsworth Weston. She is survived by her sister, Mary Lou Peura, her two daughters, Katherine Kastning Dydensborg and Sloan Weston Samulski, her grandchildren, Samantha Scholten, Weston Boesch, Sydney Dydensborg, Grace Boesch, Justus Boesch her great-grandchildren, Emma Scholten and Isabelle Scholten.
Rest in Peace Liz, you will be missed and cherished forever.
A private family service has been held.
Donations can be made in Elizabeth's name to; The Seeing Eye .org
or to Compassionate Care through; Amedisys/donate.com or mail to:
Amedisys Foundation
3854 American Way suite A
Baton Rouge, La. 70816