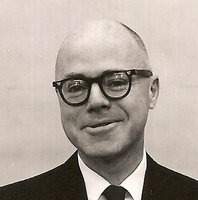 Christopher C. Street
Christopher Cutting Street passed away on August 4th, 2019 at the age of 94. He was born in New York City in 1924 to Christopher and Doris (Coe) Street. He graduated from Trinity High School in NYC and, after serving in the US Army for 3 years during WWII, graduated from Cornell University. He worked for The Prudential for 40 years in the Actuarial department. While at "The Pru", he met his future wife, Elva Moldt, to whom he was married for 65 years. He was a loving husband and father of four. Chris resided in Morris Plains, NJ for the last 65 years. An avid reader, he loved to garden, play tennis, study physics, smoke cigars, bird watch, and hike.
Chris is survived by his two sons, Christopher and Geoffrey Street; two grandchildren, Matthew Street and Jennifer Goodwin; and niece Susan Moldt. Internment will be private.