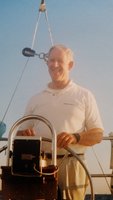 Donald B. "Bruce" Bishop
On October 8, 2019, Donald Bruce Bishop passed away at the age of 79. He was born on May 22, 1940 in New York City and grew up in New Vernon and Morristown. Following his graduation from Morristown High School in 1958 he attended MIT and eventually earned his bachelors and master's degrees from Fairleigh Dickenson University after serving two years in the US Army. Bruce lived his adult years in Morris Plains and later, Andover, NJ.
Bruce was an avid music lover and musician, and was played with the New Jersey All State Orchestra as a bass violinist in 1956. He played in multiple jazz bands in the New York and New Jersey area for much of his youth.
He had a great love for the outdoors, and was a passionate sailor and hiker. His greatest joy was walking in the woods of Sussex County, and even well into his 70s he was known to take hikes lasting hours, often covering more than 10 miles in a day.
A lifelong tinkerer with a great interest in learning, virtually no project was too big. He built electronic devices, remodeled multiple homes, designed and installed a large retaining wall in his 60s and re-roofed his house in his early 70s. His great curiosity led him to be an early adapter of computers, and he spent much of his career using his business and technology knowledge to help businesses integrate this new and evolving technology into their operations, ultimately forming a consulting company. Later in his life he would lend a hand at his son Chris's business, Altaflo in Sparta, where he took great pleasure in being one of the team.
He took great joy in the lives of his family, which grew to include daughters-in-law and grandchildren. Always ready to lend a hand and advice, his contributions were invaluable and will be greatly missed.
He is survived by his three sons, Chris, his wife Mary, and their children Brian and Katie of Morristown, Jim, his wife Tressa and sons Sam and MacLean of Colorado Springs, Mark and his fiancée Maryann of Landing, and his brother David of Glenview, IL.
Family and friends are welcome to gather on Tuesday, October 15, 2019 from 5-7pm at Dangler Funeral Home, 600 Speedwell Avenue, Morris Plains. Interment will be on Wednesday, October 16, 2019 at 11:00am at Northern New Jersey Veterans Memorial Cemetery, Sparta.
In lieu of flowers donations may be sent to either the ALS Association or Paralyzed Veterans of America