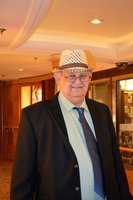 Elwin "Ron" Orr
Elwin "Ron" Orr
Born in Honesdale, Pennsylvania to Frank and Margaret Farr Orr, Ron came into the world with a great sense of humor.
Ron served for a short time in the Honesdale National Guard 109th Infantry, followed by serving proudly in the US Army.
Growing up in Pennsylvania with 14 brothers and sisters there were many adventures to be had.
In August of 1977, Ron married the love of his life, Mary Lou Shivas, and they continued to grow their family in Morris Plains, NJ. In addition to Ron's first daughter, they added two children of their own.
Ron was the opposite of shy and knew EVERYONE. If you needed a ride, a smile, or a cup of coffee he was there to lend a helping hand, or to drink a cup of coffee with you. Every morning you could find him at the Plaza Diner with his "Coffee Club." And, if you wanted to know Morris Plains news Ron most likely knew it.
Ron loved fishing, bowling, spending time with his family, and umpiring for little league.
When Ron was diagnosed with Stage 4 Pancreatic Cancer everyone's world was rocked. No matter how much pain Ron was in he always tried to get to the diner to see his friends. He loved everyone, and was loved by everyone. Ron lost his short battle with cancer surrounded by his loving family at Morristown Medical Center and entered into everlasting life with the Lord on October 13th.
Ron leaves his loving wife of 42 years, Mary Lou (Shivas) Orr; his daughters, Kim (Ralph) Hohlfeld, and Jessica Orr; his son, Ronald Orr; and his grandchildren, Addison and Bentley Orr. He is also survived by his brothers, David (Judy), Paul ( Alice), Kenneth (Cindy), Byron, and Keith (Roxanne); his sister, Gloria Jean Metzger (Frank); as well as many loving in-laws; Janet Orr, Josephine Orr, Bob Pronko, George and Francine Shivas, Jack and Nancy Shivas, Donald and Fran Shivas, Robert and Sandy Shivas, Eileen and John Claffey, Ann and Ronald Paquette, Elizabeth and Robert Kristen, Bruce and Jane Shivas, Kathleen and Thomas Effner. Ron also leaves many, many nieces and nephews.
Ron was predeceased by his parents Frank and Margaret Farr Orr, and his siblings; Richard Orr, Donald Orr, Vincent Orr, Frank Jr. Orr, Allan Orr, Doris Orr, Lois Orr, Beverly Pronko and Richard Orr.
Family and friends welcome to gather on Friday, October 18, 2019 from 3-7pm at Dangler Funeral Home, 600 Speedwell Avenue, Morris Plains. A Funeral Mass for Ron will be held on Saturday, October 19, 2019 at 10:00am at St. Virgil's Church, 250 Speedwell Avenue, Morris Plains. Inurnment of ashes will follow at Gate of Heaven Cemetery, East Hanover.
In lieu of flowers, the family kindly requests donations in memory of Ron may be made to The Morris Minute Men (http://www.morrisminutemen.org/).