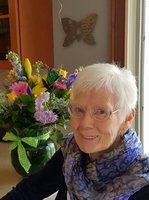 Margaret C. "Peg" Davis
Margaret (Peg) Cecilia Dwyer Davis, 96, of Morristown, NJ passed away on October 22, 2019 in Morris Plains, NJ.
Funeral service will be held at St. Virgil's Church, 250 Speedwell Avenue, Morris Plains, NJ on November 9, 2019 at 10:00 a.m. Visitation will be at Dangler Funeral Home, 600 Speedwell Avenue, Morris Plains, NJ on November 8 from 4-7 p.m.
Peg was born in Elizabeth, NJ to Jeremiah and Mary Dwyer during a blizzard on January 28, 1923. After high school, she attended Jersey City College Nursing School and graduated as an R.N. in 1945. That same year Peg enlisted in the U.S. Army, attaining the rank of First Lieutenant. In 1945 she married William John Davis, with whom she had three children: Kevin William, William John, and Janet Marie.
Peg worked as a hospital nurse for a number of years. However, in 1962 she began a new career in the Union County NJ Sheriff's office where she rose to the rank of Captain, commanding the office's entire court staff. Captain Davis was the first woman to attain that rank in the Sheriff's office. Even as she was raising her children and excelling at her job, Peg went to school at night and in 1969 earned a BA in health education from Jersey City College. She was aided in this enterprise by the unfailing support of her then mother-in-law, Ann Rose Davis.
After retiring from the Sheriff's office, Peg moved to Morris Township where she lived with her daughter Janet, son-in-law Phil and, grandson Jake. During retirement she indulged her life-long love of reading, became a devout parishioner at St. Virgil's church, played bridge, and made many friends. Most important to her, however, was the time she had to love and nurture her grandson Jake.
Peg was devoted to her children, grandson, extended family, and many dear friends. She is survived by her daughter Janet, son-in-law Phil Mundo, beloved grandson Jake Mundo, brother Jim Dwyer (Maria), as well as many loving cousins, nieces, nephews, and friends. Peg was predeceased by her sons, Kevin Davis and Bill Davis. She was also predeceased by parents, Jeremiah and Mary Dwyer, sisters Mary Phillips (Joseph), Anna Compeau (Gerard), Catherine Mitchell (Gerald), Adelaide Kelley (Charles) and Julianna Davidson ( Grant ) as well as brothers, John Dwyer (Connie), Jeremiah Dwyer (Mary Jane), and Joseph Dwyer.
In lieu of flowers, the family suggests memorial donations to Doctors Without Borders (www.doctorswithoutborders.org). The family wishes to extend their gratitude to the caring professionals at Arbor Terrace, Morris Plains, NJ and Grace Hospice, Edison, NJ who eased her end of life transition.