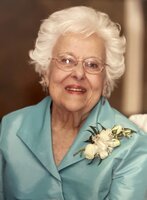 Angelina Boudreau
Angelina (Jean) Boudreau (nee Sacco)
September 10, 1920 – July 10, 2022
Born in Elmhurst, NY, one of nine children, Jean moved to Madison, NJ in 1990 where she lived until her peaceful passing. Jean was pre-deceased by her husband Joseph. She is survived by her children and their spouses Paul and Barbara Boudreau of St. Louis, Missouri, Barbara and Bob Vasich of Bethlehem, Pennsylvania, Rita and Sol Ingberman of Del Ray Beach, Florida, and Marion and Howard Craig of Madison, NJ. She is also survived by one sister, Annamae, nine grandchildren and fourteen great-grandchildren.
Jean's first priority was family. She taught by example – keep family close and love unconditionally. Her second priority was her garden, a passion she inherited from her father. When she retired in 1992, her days were filled with gardening, reading, crossword puzzles, Jeopardy and Wheel of Fortune.
Her easy laugh and sweet smile will live in our memories forever.
Family and friends are welcome to attend a Memorial Mass at St. Vincent Martyr Church in Madison, NJ at 9:30 on July 20th. Interment will be at 2:00 pm at Long Island National Cemetery in Farmingdale, NY.
Arrangements are under the care of Burroughs, Kohr & Dangler Funeral Home, Madison, NJ.