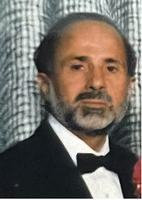 Dr. Umberto Giannini
Dr. Umberto Giannini, 95, of Morris Township (Convent Station), New Jersey passed away on Sunday, November 6, 2022 at Morristown Medical Center surrounded by his loving family. He was known for his infectious laugh and quick wit. He loved being a doctor and caring for his patients for many decades but always placed his family above all else, including his beloved wife, his devoted children, his loving grandchildren and his dear mother before her passing many years ago. He loved vacationing with his family during the many decades of his life.
Born in New York, New York, Dr. Giannini resided in Morris Township for most of his life. Dr. Giannini earned his Medical Degree from the University of Milan Medical School and did his residencies in New Jersey, where he practiced medicine for his entire professional career.
Dr. Giannini was a Medical Doctor who owned and operated his own private practice, Umberto Giannini, M.D., in both Morris Township and Clifton for approximately 45 years, until he retired in or about 2000. He was a well respected psychiatrist for many decades prior to his well-deserved retirement. Dr. Giannini was also a member of the American Medical Association.
Dr. Giannini is survived by his loving wife, Judith Giannini to whom he was married for 62 years; and his devoted children, Yolanda Giannini Andrews, and her husband, Keith Andrews, of Smithtown, New York; Robert Giannini, and his wife, Veronica Giannini, of St. Augustine, Florida, and David Giannini, Esq., of both Nutley, New Jersey and Morristown, New Jersey. He is also survived by his cherished grandchildren, Christina Pettola, Haven Andrews, Elianna Andrews, Jonathan Andrews, and Valentina Giannini; and one anticipated great-grandson on the way (due any day now).
Dr. Giannini is predeceased by his cherished eldest daughter, Laurie Ann Giannini Pettola, of Lawrenceville, New Jersey; as well as his beloved parents, Joseph and Laura Giannini; and his siblings, Salvatore Giannini, M.D., of Franklin Lakes, New Jersey, John Giannini, PhD., of Clifton, New Jersey, Orlando Giannini, of Spring Lake, New Jersey, Nunzio Giannini, of Pompton Lakes, New Jersey, and his sister, Iolanda Giannini, who passed away in her infancy.
Family and friends are welcome to gather on Sunday, November 13, 2022 from 2:00 to 5:00 pm at Burroughs, Kohr & Dangler Funeral Home, 106 Main Street, Madison, New Jersey. A Funeral Service for Dr. Giannini will take place on Monday, November 14, 2022 at 1:00 pm at Somerset Hills Memorial Park, 95 Mt. Airy Road, Basking Ridge, NJ. Entombment will follow at Somerset Hills Memorial Park. In lieu of flowers, memorial contributions may be made to the The Cholangiocarcinoma Foundation and the American Cancer Society in memory of his beloved eldest daughter, Laurie Ann Giannini Pettola, who passed away far too young.