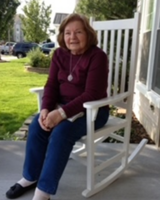 Geraldine Patricia Faraher
Geraldine Patricia Faraher (Young), of Madison, passed away peacefully on February 28, 2023 surrounded by her children.
Gerrie was born on March 16, 1932 to Robert and Margaret Young in New York City. She worked as an office administrator for Schrafft's, and TIME Magazine. She resumed her career after raising her children and retired from Maersk Inc.
Gerrie was a woman of many passions including sewing, crocheting, poetry and painting. She is predeceased by her husband, Matthew Faraher Jr., and her brother Robert Young. She is survived by her brother John, her daughters Patricia (Matthew) Devlin, Sharon (Daniel) Callan, her sons Matthew (Meagan) Faraher III and Brian (Teresa) Faraher. She leaves behind six grandchildren: Sean, Shane, Collin, Riley, Skylar and Madison.
Family and friends are welcome to gather on Tuesday, March 7, 2023, from 10:30am to 12:30pm at Burroughs, Kohr & Dangler Funeral Home, 106 Main St, Madison, NJ. A service will follow at 12:30 pm at the funeral home. Interment will follow at St. Vincent's Cemetery in Madison. In lieu of flowers, donations can be made in Geraldine's name to Fraxa Research Foundation for Fragile X Syndrome Research at www.fraxa.org.