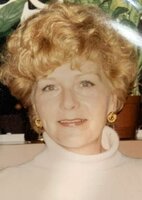 Clarissa Zanoni
Beloved Mother & Grandmother, Active with Chatham P.E.O.
Clarissa ("Risa") Zanoni passed away on Wednesday, May 10, 2023, in Raleigh, NC.

Originally from New York City, she was a proud resident of New Vernon, NJ for over 30 years.

The first member of her family to attend college, she graduated from Hunter College in 1966 with a B.A. in English. She was a longtime active member in the Chatham chapter of P.E.O., joining in 1975, and loved hosting events at her home.

Predeceased by her husband of nearly 46 years, Ronald Zanoni, she is survived by her two daughters, Sharon McMeel and her fiancé, Jason Perez, and Clarice Smith and her husband, Thurston Smith. She was a loving grandmother to four grandchildren, Connor and Marlowe McMeel and Tanner and Avery Smith.

The memorial service will be held on Thursday, May 18, at 10 a.m. at the Burroughs, Kohr & Dangler Funeral Home, 106 Main St., Madison, N.J., followed by interment at St. Vincent Cemetery, Noe Avenue, Madison, N.J. at 12 p.m.
In lieu of flowers, please send donations to the P.E.O. Foundation (note to Chapter AB-NJ) in her memory.