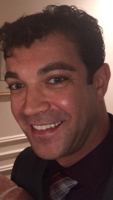 Cory Jay Wiegand
Cory Jay Wiegand, 34, formerly of Morris Plains, more recently of Clifton, passed away on December 22, 2017.
Cory graduated from Whippany Park High School in 2001, and attended Penn State University. He was a member of the I.U.E.C. and Local #1.
Cory began his career in 2005 with Schindler Elevator; moved to Zip Elevator Systems in 2006; and has been a Service Technician with Otis since 2011, both in New York and most recently in New Jersey. Otis was his second family.
Cory is survived by his loving parents, James and Barbara Wiegand, of Morris Plains; his devoted siblings, James Wiegand, III, and his wife, Nicole, and Stephanie Wiegand O'Brien, and her husband, Derek; his adored nieces, Lilli Wiegand and Sophie Wiegand; and many dear relatives in Ohio.
Private funeral services were held December 27, 2017 at Dangler Funeral Home, Morris Plains. Burial of Cory's ashes will take place at a later date in Toledo, Ohio.
Cory battled mental illness, depression, and substance abuse for many years and died by suicide. The family hopes that by discussing this openly, it will shed light, help others, and remove the stigma around these issues. Despite all of this, Cory was a larger-than-life personality, loving son, brother, and uncle with a big heart who left us more than enough good memories.
In lieu of flowers, the family kindly requests donations in memory of Cory may be made to: Families Anonymous (http://www.familiesanonymous.org/).