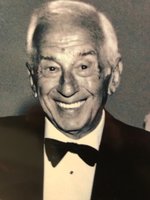 Anthony "Tony" R. Cerrato
Anthony "Tony" R. Cerrato, of Morristown and Bradley Beach, NJ passed away on December 27, 2018.
A life-long resident of Brooklyn, NY, Tony moved to Morristown in 2009 to be closer to his family.
As a young boy, Tony played baseball for the Brooklyn Comets and was a catcher for the Brooklyn Dodgers farm team before being inducted into the U.S. Army. He served in WWII as Master Sergeant. He handled all medical reports and preparations for the military inductees. This included all induction stations in the 1st Army Division area, which encompassed eight states.
Upon being discharged from the Army, Tony was responsible for overseeing the construction of the ILA Brooklyn Longshoreman's Medical Center #1814, and served as their Administrator from 1957 until its closing in 1980.
Tony retired and spent the remaining years of his life traveling with his wife to Europe and his favorite vacation destination, St Martin in the Caribbean.
He loved playing golf and spending time with his family especially at his Bradley Beach home. Cooking was also one of his favorite pastimes and he was especially known for his "meatballs".
Tony always had a smile on his face for his family. Affectionately known as "Papa Tony" and "Uncle Boots", he was a wonderful husband; a devoted father; grandfather and great-grandfather; a great uncle; and a true and loyal friend.
The true measure of a man's success is how many people loved and respected him – Tony was very successful in this regard.
Tony is survived by his childhood sweatheart and loving wife of 76 years, Esther Timpanaro Cerrato; his son, Michael, of Brooklyn, NY; his daughter, Lois, and her husband, George, of Morris Plains, NJ; cherished granddaughters, Toni Ann, of New York City, NY, and Jennifer (Lipari) Morrison, and her husband, James, of Chatham, NJ, as well as great-granddaughters, Eva, Lola, and Harper; and many wonderful nieces and nephews, who are very near and dear to him.
Tony was predeceased by his brothers, Carmen, Neil, James and Ralph Cerrato; and his sisters, Nancy Russo, Carole Massaro, Anna Fischetti, and Louise Mangano.
Family and friends are welcome to gather on Sunday, December 30, 2018 from 3-7pm at Dangler Funeral Home, 600 Speedwell Avenue, Morris Plains. A Funeral Mass for Anthony will be held on Monday, December 31, 2018 at 10:00am at St. Virgil's Church, 250 Speedwell Avenue, Morris Plains. Entombment will follow at Gate of Heaven Mausoleum, East Hanover.
In lieu of flowers, the family kindly requests donations in memory of Anthony may be made to the Charity of One's Choice.