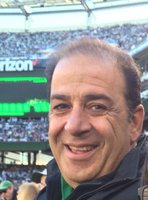 Louis D'Esposito
Louis D'Esposito 61 of Morristown, known lovingly as Husband, Dad, Uncle, Godfather, and Friend passed away Saturday, December 30, 2018. He grew up in the Bronx, NY. Raised by Joseph and Jennie D'Esposito. He grew up with 3 sisters Vera, Teresa, and Joann.
Lou moved across the bridge when he married his first love, Toniann D'Esposito and together the had 2 amazing children Gianna and Carly. After Toni's passing Louis found love again and remarried Christine D'Esposito and had two beautiful children, Jennie and Louis. He worked as a commodities broker at the New York Mercantile Stock Exchange but most recently worked at Mama Mancini's as a production manager. He was absolutely adored by anyone he was around for his very vibrant personality.
Unfortunately he diagnosed with Stage 4 stomach cancer in October and bravely fought with everything he had. He unexpectedly lost the battle to cancer within 2 months of his diagnosis.
He will be remembered and celebrated by his family and friends as truly one of kind. He could not have been any prouder of his 4 children and their accomplishments. He unconditionally supported all of their ambitions and dreams. He was always the center of the family and always had a way of making us all smile.
Family and friends are welcome to gather on Wednesday January 2, 2019 from 4:00-8:00pm at Dangler Funeral Home. A Mass of Service will be offered 10:00am Thursday January 3, 2019 at Assumption Church in Morristown by followed by burial at Gate of Heaven Cemetery in East Hanover