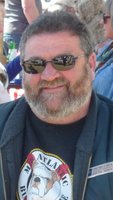 Michael "Spanky" C. Baumgartner, Sr.
Michael Christian Baumgartner, Sr., a life long Madison resident, passed away suddenly at home on Jan 28, 2019. He was 53.
Affectionately known as "Spanky," Mike was born on Aug 3, 1965 to the late James & Patricia Baumgartner. He was a graduate of Madison High School in 1983. He had a career spanning 20+ years with the US Postal Service, most recently serving as Postmaster of Florham Park & Morristown. He was a member of the Morris County 4H, The Seeing Eye & Mid Atlantic Bulldog Rescue, and life-long NY Yankees fan. Mike also had a passion for restoring old cars and worked tirelessly on his favorite 1927 Model T Ford. He was a lifelong parishioner of St. Vincent Martyr Church. He was a family man, loved the simple things in life and was a true friend to many. He will be greatly missed by all that knew and loved him.
Michael is survived by the love of his life, his dear wife Melissa (nee Seaman); his cherished four children, Steven, Katelyn, Michael & Patrick. He is also survived by his brothers; James (Melissa) of Madison, William (Carol) of Florham Park, Paul (Jennifer) of Madison, Thomas (Sharon) of Madison and his sisters; Mary Pat of Madison, Ellen Meisenbacher (Ray) of Succasunna and Ann Griner of Morristown along with 14 nieces & nephews and 7 great nieces & nephews. In addition to his parents, Michael was predeceased by his brother-in-law Keith Griner, Sr.
Relative and friends are invited to visit on Thursday, January 31, 2019 at Burroughs, Kohr and Dangler Funeral Home, 106 Main Street, Madison NJ from 3 – 8 pm. A Funeral Mass will be celebrated at St. Vincent Martyr Roman Catholic Church, 26 Green Village Rd, Madison NJ at 10 am on Friday February 1, 2019. Interment will be private at a later date.
In lieu of flowers, charitable contributions can be made in Mike's memory to: The Seeing Eye, P.O Box 375, Morristown, NJ 07963-0375 or at www.seeingeye.org, or Mid-Atlantic Bulldog Rescue, PO Box 155, Belmar NJ 07719 or at www.Midatlanticbulldogrescue.com.