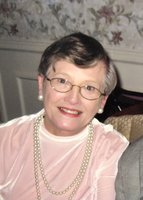 Judith "Judy" A. Anderson
Judith "Judy" Ann Anderson (née Kral), 82, of Morris Plains, entered into rest on January 31, 2019. She was born in Newark, NJ and lived in Kearny, NJ before residing to Morris Plains, NJ since 1965.
Judy graduated from St. Cecelia High School, Kearny, NJ in 1954. She was in the Food Service industry, working at Rod's Steakhouse & Seafood Grille in Morristown, NJ before retiring in 2007 after 28 years. Judy was a parishioner of St. Virgil's Church.
When Judy was about 50 years of age she took up the game of golf and was immediately addicted. On her days off of work and after she retired became a permanent fixture at Pinchbrook Golf Course in Florham Park. Walking 18 holes 3 times a week. From then on her whole recreational life centered around the game of golf where ever she would travel figured into her plans.
She is survived by her loving husband, George M. Anderson, as well as her devoted children, George M. Anderson, Jr. and wife, Amy, Douglas M. Anderson and wife, Fanny, Laura Jean Anderson-Lombardi and husband, Frank, Gregory J. Anderson and wife, Shelley, and Robert "Bobby" Anderson. She is also survived by her adored grandchildren, Kiana Anderson, Steven Anderson, Kevin Anderson, Geordie Anderson, Faith Anderson, Max Lombardi, Karen Anderson, Isabella Anderson, Thomas Anderson, Sarah Anderson, and Mariel Anderson. Judy is survived by her caring sisters, Mary Lou Addario and husband, Chase, Janice O'Brien and husband, Kennedy, and Susan McGhie and husband, Robert, and many cherished nieces and nephews.
Judy is predeceased by her parents, John and Vesta Kral, and her brother, Peter Kral.
Family and friends are welcome to gather on Monday, February 4, 2019 from 4-7 pm at Dangler Funeral Home, 600 Speedwell Avenue, Morris Plains, NJ 07950. A Funeral Mass will be celebrated on Tuesday, February 5, 2019 at 10 am at St. Virgil's Church, 600 Speedwell Avenue, Morris Plains, NJ 07950.
The family has requested that in lieu flowers donations be made to the VNA of Northern NJ. They were an important part of Judy,'s life for the past 3 years dealing with her care for her dementia and wellbeing. Donations can be mailed to: Visiting Nurses Association of Northern New Jersey, 175 South Street, Morristown, NJ 07960 or online at https://www.vnannj.org/donate.html