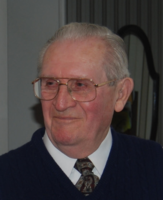 Marvin H. DeMond
Marvin H. DeMond died February 12, 2019 after a brief illness. He is survived by his wife, Helen, his children, Jeffrey DeMond (Helene Sullivan) and Jeanne Hirsch (Steve), stepchildren, Elizabeth Johnson (Dave Jenkins), Robert Johnson (Kim Kiser), six grandchildren and his sister-in-law, Frances McLaughlin. He is predeceased by his stepdaughter, Ruth Johnson.
Marvin was born July 8, 1927 in Morristown, NJ and grew up in Gladstone, NJ. He attended Bernardsville High School and after graduation served in the Army, stationed in Panama. After his military service, he received his BA degree from Rutgers University. He spent much of his career at Boonton Molding and Hoechst Celanese, from which he retired in 1988. He was an active member of American Legion Post #59 and served as their treasurer for many years.
An avid golfer, Marvin enjoyed traveling and tending his garden and was always interested in trying new things. He was a master punster and had a quick wit and a wry sense of humor.
Marvin was a devoted husband and partner to Helen for nearly 49 years. He will be greatly missed by her and by their extended family.
Relatives and friends are invited to attend visiting hours at Dangler Funeral Home, 600 Speedwell Avenue, Morris Plains, NJ on Friday, February 22, 2019 from 7-9 PM. A Funeral Service will be held on Saturday, February 23, 2019 at 10 AM at St. Paul's Episcopal Church, 29 Hillview Avenue, Morris Plains, NJ. Entombment will follow at Restland Memorial Park Mausoleum, East Hanover.
In lieu of flowers, donations may be made in Marvin's memory to the Cardiovascular Center for Excellence c/o the Foundation for Morristown Medical Center, 475 South Street, 1st Floor, Morristown, NJ 07960. Donations may also be made online at www.f4mmc.org.