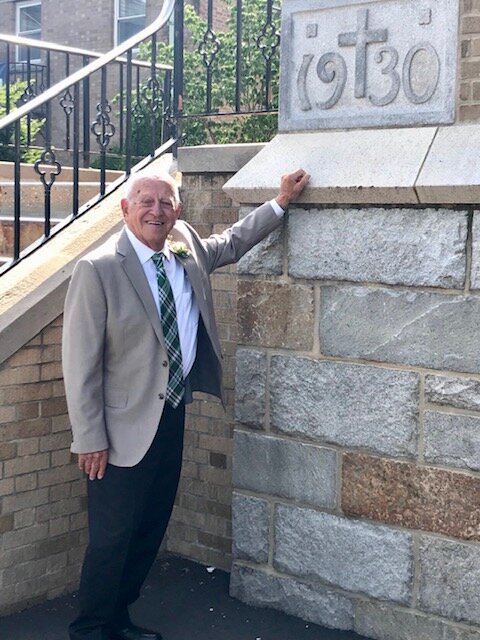 Obituary of Paul V. Sambrowski
Please share a memory of Paul to include in a keepsake book for family and friends.
Paul V. Sambrowski, 92, of Morris Plains, passed away peacefully on May 1, 2022, surrounded by his loving family. He was born on April 10, 1930 in Wilkes Barre, PA to Jacob and Mary Sambrowski, the youngest of seven children. His family moved to Belleville, NJ, during World War II. He joined the United States Air Force and was stationed in Germany during the Berlin Airlift. While serving in the National Guard's 50th Armored Division, he met his wife, Joan McDonnell, at the Sussex Avenue Armory in Newark, NJ. They married in 1955 and lived in Newark until moving to Morris Plains in 1961. After working at the Afton Restaurant in Florham Park, he then worked for the United States Post Office. In 1968, he bought a luncheonette in Morris Plains and named it "Paul's Place". He owned it for ten years and worked hard to support his large family. He sold the store in 1978, returned to the US Postal Service and happily retired in 1996. Paul and Joan raised 8 children in their home on Hillview Avenue – seven girls and one boy.
Paul was a long-time member of St. Virgil's Church, Prime Time Seniors and Morris Plains Senior Club. He was a former member of the Knights of Columbus and volunteered with the Community Soup Kitchen, Homeless Solutions and Operation Appalachia and supported numerous other charitable organizations.
Paul will be fondly remembered for his love of baseball (often watched without sound), especially his beloved St. Louis Cardinals. He enjoyed a good Manhattan. He enjoyed rooting against all New York sports teams, however he frequently took his children to games at Yankee and Shea Stadiums (but never past the 7th inning – traffic!). Paul had a great sense of humor and didn't seem to mind being the butt of a good joke. He had a heartwarming smile that lit up a room.
Paul will be greatly missed by his devoted and loving wife of 67 years, Joan, and by his daughters Gail Flaherty, June Sambrowski (Jim Davidson), Paula Hoferer (Bill), Karen Harris (Joe), MaryEllen Palumbo (Dominic), Karla Lortie (Tim) and Kristen Stahl (Billy), and by his son Paul Sambrowski, Jr. (Rachel). Paul is also survived by his grandchildren, Terry Flaherty, Bryan Flaherty, Kyle Davidson, Jake Davidson, Billy Hoferer, Laura Hoferer, Ryan Hoferer, Sara (Harris) Botsakos, Julia (Harris) Rizos, Rebecca (Harris) Weber, Luke Harris, Emma Palumbo, Fiona Palumbo, Dominic Palumbo, Emily (Lortie) Djindjiev, Erin Lortie, Matthew Lortie, Maximilian Stahl, Trey Stahl, Heather Sambrowski, Mark Sambrowski and Leah Sambrowski. His great-grandchildren,
Amelia Rizos, Elizabeth Rizos, Margaret Rizos, Elliott Davidson, Scarlett Davidson, Andrew Botsakos, Natalie Botsakos, Theo Hoferer, Madelyn Djindjiev, Theodore Djindjiev and 3 more on the way. He was predeceased by his grandson, Craig Davidson.
Family and friends are welcome to gather on Tuesday, May 3, 2022 from 2-4pm & 6-8pm at Dangler Funeral Home, 600 Speedwell Avenue, Morris Plains. A Funeral Mass for Paul will be held on Wednesday, May 4, 2022 at 10:00am at St. Virgil's Church, 250 Speedwell Avenue, Morris Plains. Interment will follow at Holy Rood Cemetery, Morris Township. In lieu of flowers, Paul's family asks for donations to the Interfaith Food Pantry Network or the Morris Minute Men.