---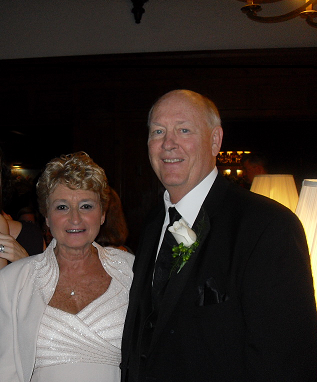 In Memory of
Arthur J. "Artie " Grant
Friday, February 10, 2017
Obituary of Arthur Grant
*Due to the amount of organizations Artie was a member of, the family requests those organizations join them at certain days and times. Please see Service Information for further details.
-----------------------------------------------
Arthur J. Grant, 74, passed away on Friday, February 10, 2017 at the Morristown Medical Center. He was born in the Bronx, New York and spent most of his childhood in White Plains, New York. With his parents, Arthur R. and Rose (Branagan) Grant, he moved to Morristown in the late 1950's. He graduated Seton Hall Prep, Villanova University and The Stonier School of Banking at the University of Delaware.
Art served his country during the Viet Nam War as a member of the United States Army. He was involved in the intelligence field in the far eastern theatre.
He was employed as an auditor for both the National State Bank of Elizabeth and Citizens First in Ridgewood. He was an instructor in business mathematics, advanced accounting and analysis of financial statements, through the Banking Institute of America, where he also served as a former president. He also
was a member of the North Jersey Chapter of the Morris/Sussex Chapter of the New Jersey Society of Certified Public Accountants. During his years as an auditor, Art became a Certified Public Accountant and later set up an office in Morris Plains where he could better serve his clients.
Art was a member of the Morristown American Legion Post 59, serving as a finance officer, service officer and commander. He was also involved in the Morris County American Legion serving on different committees, but his favorite was Boys State. He took such pride in interviewing and preparing junior high school boys selected to attend Jersey Boys State where they would set up a mock government, and vote for state officials and elect a peer as governor. While Art was involved, he personally interviewed several candidates that were elected to this prestige honor of Governor. He also was serving as Lampiste & Chef de Gare Passe, La Societe des 40 Hommes et Chevaux, (State Commaner for the 40/8).
Art was also a member of the Watnong VFW Post in Morris Plains, serving as post commander and chaplain for many years.
He was also a member of the Morristown/Morris Township Memorial and Veterans Day Association, serving as their Ceremonial Officer. He was a key note speaker at several of the Morris Plains Memorial Day ceremonies and Chairman of the Select School Board Committee which reviewed school facilities and expenditures, while improving education.
Art was a member of the Friendly Sons of St. Patrick. He was proud of his Irish heritage and became very involved in "Project Children", a program where college students from Ireland majoring in criminal law and medical fields, spent summers in the USA. The Grant family has hosted students over 15 years. Art especially liked "sitting around and talking Irish". He was also a former member of the Morris County St. Patrick's Day Parade Committee. He hosted his own Irish radio show, sharing Irish stories, news events, both present and past, and of course, all the wonder Irish songs.
Art was also a Past Grand Knight of the Morris Plains Knights of Columbus, and served as their "Worthy Recorder" for a number of years. He also was serving on the Financial Council of St. Virgil's Church.
Art is survived by his wife of 47 years, Carol (D'Olivo) and his children, Jennifer and Frank Dorcley, Kevin, and Patrick and Sharon Grant and his four grandsons, Brandon, Josh, Patrick and Conor. Also survived by his brother, Ed Grant, of Longwood, Fl. and many cousins, both in New Jersey and New York. Art is also survived by his "Project Children" families in Ireland, The Paddy Cunningham's, The Brian O'Connor's, and the Peter Grant's.
Please come and share your stories and memories of Arthur Grant. Visitation will be at Burroughs, Kohr & Dangler Funeral Home, 106 Main Street, Madison, Tuesday, Feb. 14, from 4-7PM, and on Wednesday, Feb. 15th from 2-4PM and 6-8PM. A Funeral Mass will be celebrated on Thursday, Feb. 16th at 10:00am at St. Virgil's Church, 250 Speedwell Avenue, Morris Plains. Donations can also be made to Employment Horizons, 10 Ridgedale Avenue, Cedar Knolls, NJ 07927.
who we are:

The Dangler Family of Funeral Homes - a family run business since 1820.

Contact Us

Dangler Funeral Home, Inc.
P: (973) 539-3300
F: (973) 539-9893
Burroughs, Kohr & Dangler Funeral Home, Inc.
P: (973) 377-3232
F: (973) 377-2226

location

600 Speedwell Ave.
(at Glenbrook Rd.)
Morris Plains, NJ
Christine M. Dangler, Mgr., N.J. Lic. No. 4706
Kip M. Dangler, Dir., N.J. Lic. No. 3992

map

106 Main St.
(at Greenwood Ave.)
Madison, NJ
Kip M. Dangler, Mgr., N.J. Lic. No. 3992
Christine M. Dangler, Dir., N.J. Lic. No. 4706

Quick links