---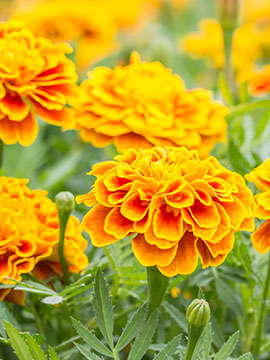 In Memory of
John W. Poutsiaka, PhD.
1925 - 2018
Obituary of John Poutsiaka, PhD.
John Poutsiaka, PhD
Former Morristown resident, Bristol Myers Squibb Director of Toxicology and Vice President, World War II Veteran, 92
John Poutsiaka, PhD, 92, passed away peacefully on Saturday, January 13, 2018, at The Holly Manor Center in Mendham. John was born on February 6, 1925, in Newark, New Jersey. As a small boy he went with his mother and sisters to live in his family homeland in Greece, leaving his father behind to work at the family sweet shop in Newark. Ever the story teller, he shared many stories of fondness and family history from his years there (including his days in school run by the priests in the mountains!) Upon returning to Newark at the age of 10, he continued his education at Burnett Street School and Barringer High School (1942 graduate.) He also worked at the family sweet shop with his father, and often recalled the wonderful smells of the homemade chocolates and ice cream. Upon graduating from Barringer High School in 1942, he felt the strong responsibility to serve his country during the war and enlisted in the army, where he served from 1943-1945. Due to his poor eyesight he was precluded him from actual combat service. However, because of his high intelligence, he was sent to Army Cryptography School and eventually was sent to join the 490th B 17 Bomb Group. He was then sent to England for further training at The University of Oxford Royal Air Force School where he received an advanced cryptography certification on June 6, 1944 (D-Day). He then joined the 8th Air Force, based in East Anglia, and was responsible for providing the daily codes to the bombers who were flying combat missions. John's recollections of his time in service were vivid and, in spite of the war, fond. Through his love of story-telling, his experiences in service to his country became a part of family lore. After the war ended, he made the purposeful decision to go to college. Through many years of hard work and with the help of the GI Bill, he successfully completed his Bachelors Degree at Seton Hall University (1948) his Masters Degree at Fordham University (1949)and his PhD at Fordham University (1954). While completing his PhD at Fordham, he was hired at Squibb Pharmaceutical Company on 1950 as a research scientist. Throughout the years, he rose to the rank of Associate Director of the Squibb Research Institute and then to Vice President of Drug and Regulatory Affairs. He published numerous juried scientific research papers in a number of journals and was a member of many scientific societies. He worked for Squibb (Bristol Myers Squibb) for 40 years, and finished up his career from 1983 to 1985 as Consultant for Bristol Myers Squibb on various pharmaceutical litigation cases.
In his final years, John was grateful to spend time with his family, and continued to tell the stories of his life not only to his family members, but to all who would listen. In his last months at the Holly Manor Center, he was happy to have "fresh ears" to listen to the stories related to his time in service, his career, his travels, and his family. These related memories were appreciated by all of his wonderful caretakers, nurses, and hospice care volunteers.
He is predeceased by his first wife Esther, (nee Boucouvalas), his second wife, Sheila (nee Feintuch) , and his sisters Mary Tsonas (spouse Chris Tsonas) and Frances Stamnes (spouse George Stamnes). He is survived by his loving daughter, Daphne Gregory-Thomas (spouse Dean Thomas) and son, William Poutsiaka (spouse Dr. Debra Poutsiaka). He is also survived by his son-in-law George Gregory, his beloved grandchildren David Gregory-Holloway (spouse Johanna), Peter Gregory (spouse Carrie), John Gregory (spouse Nativita), Katie Poutsiaka, and John Matthew Poutsiaka. He also leaves behind his adored great grandchildren Nico Gregory, Naiyah Gregory, Alexander Gregory, and Anastasia Gregory.
There will be private family memorial remembrance. The family requests that any contributions in John's memory be made to a veteran's organization of choice. Arrangements were under the care of Dangler Funeral Home, Morris Plains, NJ.
who we are:

The Dangler Family of Funeral Homes - a family run business since 1820.

Contact Us

Dangler Funeral Home, Inc.
P: (973) 539-3300
F: (973) 539-9893
Burroughs, Kohr & Dangler Funeral Home, Inc.
P: (973) 377-3232
F: (973) 377-2226

location

600 Speedwell Ave.
(at Glenbrook Rd.)
Morris Plains, NJ
Christine M. Dangler, Mgr., N.J. Lic. No. 4706
Kip M. Dangler, Dir., N.J. Lic. No. 3992

map

106 Main St.
(at Greenwood Ave.)
Madison, NJ
Kip M. Dangler, Mgr., N.J. Lic. No. 3992
Christine M. Dangler, Dir., N.J. Lic. No. 4706

Quick links